Welcome to Fox News' Politics newsletter with the latest political news from Washington D.C. and updates from the 2024 campaign trail. 
Subscribe now to get Fox News Politics newsletter in your inbox.
Threat to Democracy?
Michigan Democratic Rep. Debbie Dingell says the violent pro-Palestinian demonstration at the Democratic National Committee (DNC) Wednesday scared her more than the January 6 riots at the Capitol …Read more
In an interview with Fox News Digital, Dingell described attempting to leave the DNC headquarters, only to find doors blocked. She tried to leave through the front door where demonstrators stood in a line despite police telling them to cease blocking the door. Police warned that she would be hurt if she left, and she described how much it rattled her to see the violence up close.
"In the Capitol, we were in a big place, they were working to keep us safe," Dingell said, recalling the storming of the Capitol by supporters of former President Donald Trump in January 2021. "I never knew how bad it was until after we had finished our final voting about what had been happening."
The DNC headquarters, on the other hand, put her closer to the clash between police and protesters. "When you're in that contained space and all you see are bodies fighting each other, it's scary," Dingell said.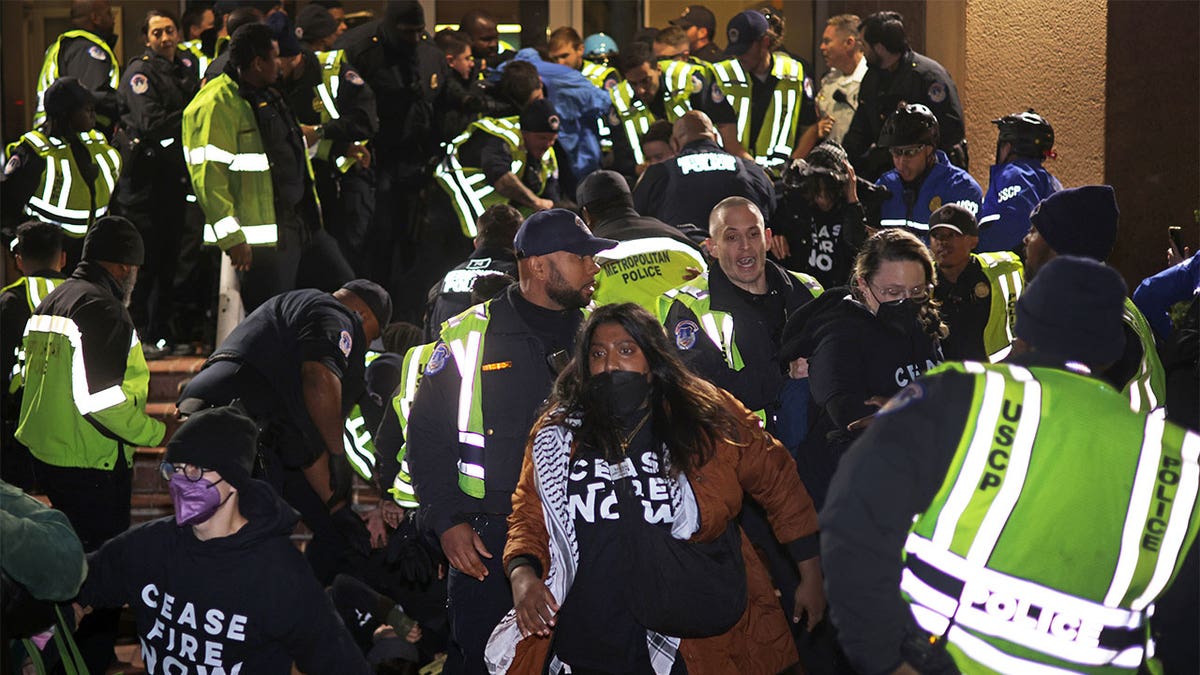 'UNDER SIEGE': Republicans blast pro-Palestinian protests at DNC …Read more
Capitol Hill
TAPES RELEASED: Speaker Johnson has begun releasing thousands of hours of footage from the January 6 Capitol riots …Read more
WORLDS APART: Senate and House headed for showdown over defense bill …Read more
RED LIGHT: House breaks for Thanksgiving with Johnson notching wins and losses …Read more
ONWARD AND UPWARD: Biden signs temporary spending bill, pushes budget fight with GOP into 2024 …Read more
White House
ON THE CLOCK: Biden campaign reportedly weighs joining Chinese-owned TikTok to reach younger voters …Read more
'HATRED': Feds launch investigation into Ivy League colleges for antisemitism …Read more
'IMMEDIATE ACTION': Biden admin reveals its authority when handling visas of Hamas supporters …Read more
'CHINA FIRST': Experts blast Biden's deal with China to shut down oil and gas …Read more
Campaign Trail
FOX NEWS POLL: Americans rate the parties on issues for 2024 …Read more
TRUMP FOE EYES 2024: Key Trump impeachment figure running for Congress as a Democrat …Read more
PUSHING OUT DEADLINE: Trump team moves for mistrial in NY case …Read more
LABOR PAINS: Biden using Trump's own words against him in bid to win back major voting block …Read more
IOWA: Will an influential leader's support in Iowa upend Trump's massive lead in the lead-off nominating state? …Read more
NEW JERSEY SNUB: New Jersey Democrat fundraising organization endorses Menendez's opponent …Read more
Across the Nation
SUNSHINE STATE STANDOFF: Supreme Court denies DeSantis in legal battle over drag queen ban …Read more
BORDER BOOM: Thousands of Chinese nationals, gotaways since Oct 1 …Read more
DOMINANT: Trump remains untouchable in early polls but one candidate is rising …Read more
Get the latest updates from the 2024 campaign trail, exclusive interviews and more on FoxNews.com.